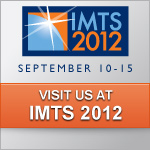 The big manufacturing show in Chicago is now on, until Saturday.  We don't have a place ourselves this year, but Kubotek is at E-3143, and Synergetic  Innovative Solutions are with them presenting our XMD-S.
Kubotek will be showing their continuing progress in becoming the Masters of Geometry, with:
KeyCreator – The only complete Direct Modeling CAD software.
KeyCreator Machinist – integrated 2-3 axis machining
KeyCreator Compare – powerful data validation and comparison.
KeyCreator Analysis – multiphysics simulation software
And you can also find there about Expert Mold Designer -S, our automated mold design solution exclusively for KeyCreator.