Expert Mold Designer has moved!
Click here to visit its new home at Synergetic

Speed + Accuracy = Value

XMD-S™ is the knowledge-driven automated mold design solution, that draws, manages, understands and even checks the hundreds of details of your mold design. Our software's built-in knowledge will accelerate your design work, enabling your companies to deliver better value. XMD-S™ works great for molds from small to huge. It's unique technology makes it especially ideal for large custom molds such as for automotive dashboards.
Speed
You can expect a dramatic boost in productivity with XMD-S™!  This robust, automated solution significantly shortens overall mold design times. XMD-S™ is designed to further increase the efficiency and accuracy of your design & manufacturing process.
Accuracy
Designing fast is one thing, designing accurately is equally important. That is why knowledge is built into XMD-S™. It can intelligently anticipate the needs of a designer, allowing him/her to design more efficiently. XMD-S™ intelligently checks the design for potential errors, allowing designers to design more confidently.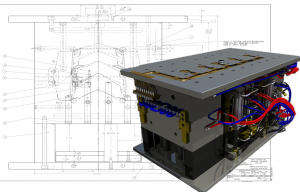 Value
XMD-S™ is a high end design tool for a mid-range price. It's ease of use means lower training costs. Speed of operation means lower design costs. Increased accuracy will eliminate errors.  Combine this with better tools for sharing data throughout your organization will save time and save money in manufacturing. These are all factors that give XMD-S™ an extremely low Cost of Ownership giving you an excellent Return on Investment today and into the future.
Direct Model Editing
Expert Mold Designer-S™ takes full advantage of the powerful direct modelling capabilities of Kubotek®
KeyCreator® . Designers have the tools they need to directly manipulate model data. They can create or import solids, surfaces and wireframe, and integrate everything with the intelligent automation of XMD-S™. Whether you design molds for toys, appliances, or automotive,
KeyCreator® can read your data and XMD-S™ can design the mold around it.