A new version of our Expert Mold Designer -S software (XMD-S) is now available that's packed with time-saving new features and intelligent automation. In a nutshell:

XMD-S can now automatically color hole faces based on your configuration.

We made it much easier to navigate your custom component library.
Thanks to some excellent feedback on our recent Bill of Materials revamp, we've made it even better! 
Automatic Hole Face Coloring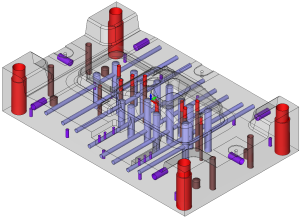 For years, XMD has been designing holes for your components according to your shop's standard sizes.  Now in 11.5, XMD-S has expanded this automation to the realm of hole face colors.  Not only will holes be automatically subtracted from exported solids, but they can be colored too.  One company estimates this will save them an average of 20 hours on large jobs!
Holes can be colored based on:
The type of hole (slip fit, clearance, tap drill, etc.)
The type of component (water, ejection, etc.)
The units (metric or inch)
The thread type (UNC, UNF, etc.)
And more!
 If this is something your shop is doing, or wants to do, then you need XMD-S 11.5!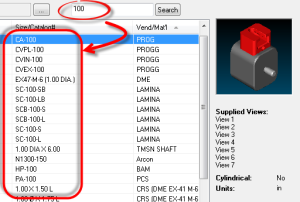 Custom Component Navigation
XMD-S comes with nearly 1000 custom components (or Smart Patterns) out of the box, and many companies have added thousands more.  Since navigating through them all could be a pain, we've introduced a new search feature is sure to be a big hit.  All Smart Pattern fields are a part of the search (names, vendors, catalog numbers, etc.) and it's lightning fast.  After XMD-S is finished indexing your catalog directory, searches take a fraction of a second.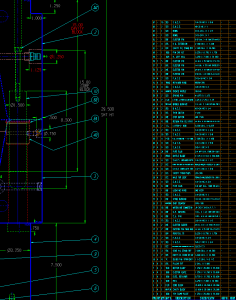 Bill of Material Improvements
In our previous release (XMD-S 11.3.1) the BOM saw a complete revamp (if this is the first you've heard of it, you should definitely check it out!).  Despite a few, shall we say, 'hiccups' (nobody's perfect!), it was very well-received.  Thanks for all the great feedback!
Now in 11.5, the BOM is better than ever.  The most significant improvements can be seen in our "drawn BOM" which is made up of 2D lines and notes and placed in a drawing right in the design.  Although the drawn BOM is no longer required, users have found that it is an effective way of conveying information to the mold maker.  XMD-S 11.5 now manages this table like never before, leaving it looking great throughout all the various changes a mold design goes through.  Ballooning has also undergone a number of improvements and fixes as well.
Get XMD-S 11.5!
For existing users, the new version can be accessed on our downloads page.
For prospective users, please get in touch with us to arrange for a live demo, custom tailored to the kind of molds you design!